Apart from Tony's many talents as an entertainer, he is also an accomplished writer and producer. Tony has written and produced over 20+ self help CD's with business partner Karen Kallie who is a Nurse-Psychotherapist with advanced training in Mind-Body Medicine and Energy Psychology.
Available are programs which have changed lives for almost 2 decades.
Some of those programs are listed below.
How To Protect Yourself From Energy Vampires
An eighty five minute program that teaches you how to eliminate the energy drains in your life.
Is This Program For You?
Are there people in your life who leave you drained or exhausted?
Is there someone in your life who incessantly criticizes, blames and manipulates leaving you feeling deflated, ripped apart or emotionally beaten?
Do you find yourself becoming tense, tight and constricted with some people?
Do you tend to engage in negative behaviors as a way to refuel, numb the "pain" or distract yourself from the results of contact with specific people in your life
These are all very common reactions to having been "vamporized".
How This Program Helps:
How to Protect Yourself from Energy Vampires includes an in depth discussion about energy drains and two guided mediation's designed to help you:
1.Learn to recognize energy vampires.
2.Protect and keep yourself safe from harm
3.Repair, restore and rebuild your energy to keep you safe in the future
Chakra Guided Meditations
Guided Meditation through each Chakra focusing on bring each into balance
Is This Program For You?
Is your energy system out of balance?
Have taken the Chakra Test and now you know what to work on?
Need to spend more time on one Chakra over the other?
How This Program Helps:
This program was created with flexibility in mind.
It can be utilized as a total Chakra workout as well as a targeted excercise for each Chakra. Each track contains helpful information as well as a guided meditation to help you bring that specific Chakra back to balance with understanding.
Letting Go, The Heart of Healing
A forty five minute program that facilitates release from pain, grief, loss and old toxic energies.
 Is This Program For You?
Letting Go: The Heart of Healing
Why is it so hard to change?
What is the secret to healing "out of time"?
How can old conditioning be released at the cellular level?
What can be done to both release pain and connect with inner strength and resilience?
How This Program Helps:
Letting Go: The Heart of Healing blends dialogue and guided meditation to enable you to:
Unblock the energy that has been stagnant or frozen
Let go of resistance to change, old patterns and reactivity
Open to core energies that provide inner support, strength and creative flow
The approach in this recording soothes and comforts while facilitating health and healing. The blend of techniques in this recording helps to move you toward a deep internal center where you access uncommon courage, compassion and love of Self.
Balancing Your Chakras
A guided meditation to balance, strengthen and harmonize your chakra system.
Is This Program For You?
Balancing Your Chakras uses imagery, sound and color to help you to:
Release old, toxic or stuck energy patterns
Learn new skills to strengthen your energy
Facilitate the integration of healthy energy patterns
Track One of this program includes background information to provide maximum benefit from the guided journey through your chakra system. Track Two begins the guided meditation. The meditation blends imagery, inner focus/intention and specific musical tones to bring the chakras into balance.
How This Program Helps:
Balancing Your Chakras is a guided meditation designed to give you an energy workout by guiding you through your energy system.
The dialogue and music were designed to help you to build and strengthen your energy as well as to eliminate negative patterning. Technique, intention, and musical entrainment result in balancing, stabilizing and harmonizing your energies.
Unresolved emotions, negative thinking and beliefs can distort and impede the healthy flow of your energy contributing to physical, psychological, and spiritual problems. Creating abundant, free flowing coherent energy promotes health and vitality…exactly what this program is designed to facilitate. Routinely using this recorded program will exponentially magnify returns on your investment of learning, time and practice with a greater inner ease, balance and vitality.
TAKE 5
When your a caregiver or simply feel like one, time never seems to be on our side. Our personal experiences became the catalyst for creating Take 5. We are all experiencing overwhelm, stress and need time to relax and rejuvenate our energy. It is truly critical that you take time for yourself. It has been scientifically proven that meditation helps us mentally, physically, emotionally and spiritually. Take 5 is simply a way to fit a powerful guided meditation into your schedule. The guided meditation program was designed and led by Karen Kallie. Karen is Nurse-Psychotherapist with advanced training in Mind-Body Medicine and Energy Psychology. The music was specifically written and designed to enhance your experience by Tony Pace.
It's simple… Take 7 minutes out of a 1440 minute day to relax, reduce your stress and recharge.
Download it to your Computer, Phone or Ipad and listen.
Do not operate heavy machinery or use in important meetings.
Relaxation 101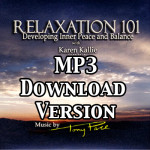 A guided meditation that relaxes your body quiets your mind leading you into deep states of inner peace, tranquility and harmony.
Is This Program For You?
Sometimes just listening to music isn't enough. . .
Need to be talked down with a proven dialog helping you release the stress of the day?
Is your mind all over the map and won't sit still?
How This Program Helps:
Track 1 includes dialogue and music that effortlessly delivers you to profound states of peace and relaxation. Dialogue and music are skillfully blended to facilitate alpha and theta brainwave states that results in a spacious expansion, alert but easy awareness, and a deep peace that not only relaxes and refreshes but also helps to condition your nervous system to heal, reboot and provide you with a stronger foundation for creativity, problem solving, intuition and spiritual experience.
Track 2 is solely the program music without the guided meditation which can be used for a for your own free form meditation.